this is the face i wake up to every day...the face that belongs to my favorite boy, who loves bananas and pears and his momma. i am the luckiest.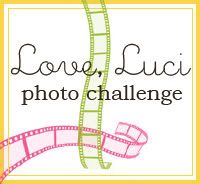 i'm linking this pic (my first ever link up!) up with a very cool new photo challenge at
Love, Luci
. it's celebrating All Things Babies and i am very excited to participate!!
our easter sunday was wonderful. full of spring cleaning, baseball watching and, after winter that seemed never-ending, finally getting a chance to check on the progress of my day lilies (pitiful) and relax in the sun. ben, my poor, sweet december baby with skin the color of an aspirin didn't quite know what to do with the warm weather and had to be soothed with frozen washcloths on his little cheeks after 20 minutes in the shade led to a meltdown of epic proportions...BUT it was awesome. and i was thankful. and blessed.
it's a SUPER busy week. we have our annual cinco de mayo party this weekend and i haven't prepped a stinkin' thing. i have lists a mile long with nary a checkmark on them and not the first clue how i think i am actually going to pull this off. i am very lucky to have two of my besties flying in to help squeeze limes and change diapers (not at the same time, thankfully) but my blogging might fall a little to the wayside for the next few days...not to worry...i got ben a sombrero and the post-party pics and recipes will be a plenty! stay tuned! and keep your fingers crossed for a sunny, sunny day saturday!